Solutions for Noisy Home Gyms and Fitness Facilities
With it being the New Year fitness centers start to get incredibly busy, and home gyms are now getting built for everyone to lose that extra holiday weight. Whether you are looking to install a home gym or you are building a new public fitness center, there are a handful of design decisions to consider, ranging from what type of machines you need to lose the weight to what type of flooring you want to be installed.
The most critical decision that is often overlooked by designers is how to soundproof a gym. The noise a gym produces isn't realized until after everyone starts up the treadmills for cardio at high speed or when people start lifting those heavy, weights.
Because we know the New Year means gyms and fitness centers are going to be used quite frequently for a few months, we decided to put together this blog to provide our soundproofing expertise. Whether it is a home gym or for a fitness center in the pre or post-construction phase we have tips for you on how to soundproof your exercise room or facility.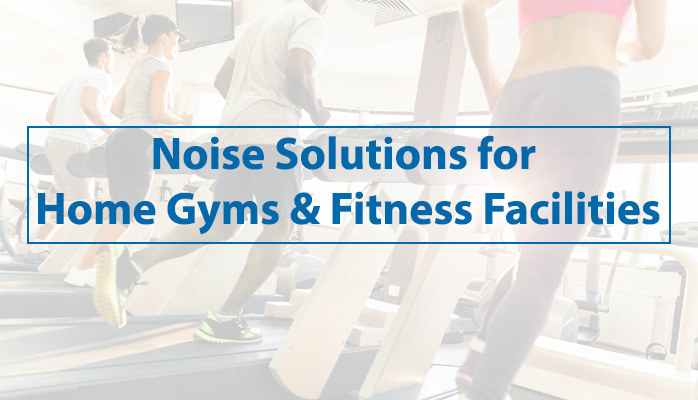 Tip #1
If you are looking to have the best soundproofing solutions for your fitness room the best time to start is before construction. By doing this, you will be able to include a number of powerful soundproofing materials that won't interfere with your design layout.
Tip #2
Try to avoid putting a gym next to neighbors or rooms that need to be quiet. If you do so, you will be able to limit the amount of soundproofing you need to do!
Tip #3
Incorporate soundproofing insulation throughout the walls of the gym. Not only does it dampen the sound but it also has a thermal value as well. For example, without soundproofing insulation, all the hard spaces act as reflective sound surfaces amplifying the noise.
Tip #4
Don't forget about the floors! If your gym is above another space you can place a layer of sound-reducing underlayment; it will add a layer of sound reduction to your gym. It is best to tackle this job before laying your flooring.
Tip #5
If your gym is past the construction phase, consider adding acoustical panels. The panels are similar to insulation but are installed on the outside of the walls. An added bonus to the panels is that you can get them custom designed. Without panels, the noise level can rise quickly and cause the noise to be reflective throughout the facility.
Tip #6
To help reduce the echo in the space, you can add hanging baffles. Instead of sound bouncing from wall to wall, the baffles will absorb the sound emitted throughout the gym.
We hope these few tips were able to help or guide in the right direction when soundproofing your home gym or commercial fitness center. If you need additional tips and information, please don't hesitate to contact us. We're always happy to help.